Published Photo "Dew on Moss" in Merrimack Valley Magazine Mar/Apr 2012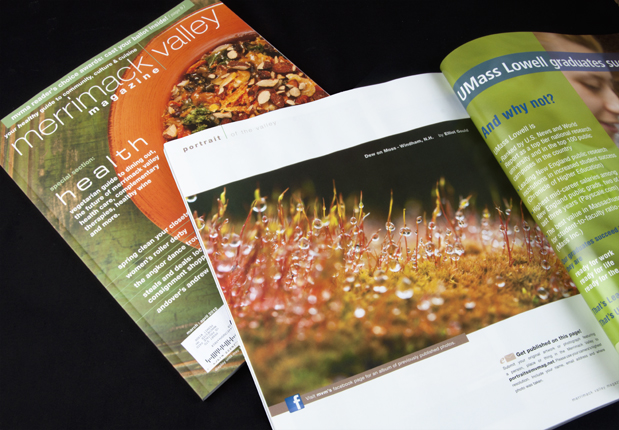 I have always loved the photography in the Merrimack Valley magazine. Their food and home photography in particular are consistently great. Inside the back cover they always publish an image submitted by a reader featuring a person, place or thing located in the Merrimack Valley. Here's an archive of the photographs they've published in the past on Facebook.
Last June (2011) I took an interesting picture of dew on some moss with my macro lens. The way the water droplets were suspended on the strands of vegetation was very stunning to me. After taking the photo, I posted it in my portfolio section of my website. Then it occurred to me that it would be an excellent candidate for the back cover shot for the Merrimack Valley magazine, so I submitted it.
Every issue since then I dutifully whipped open the back cover to see what picture was there, only to be greeted by someone else's shot – until this month. This month, however, it was my wife who discovered the photo. She came upstairs and gave me one of those funny, "I know something that you don't" grins. After some playful banter, she popped open the magazine to show me. Needless to say, we were both very excited to see photo published!
Here's the original photo.