Scott Sigler Pandemic Tour Stop in Boston, MA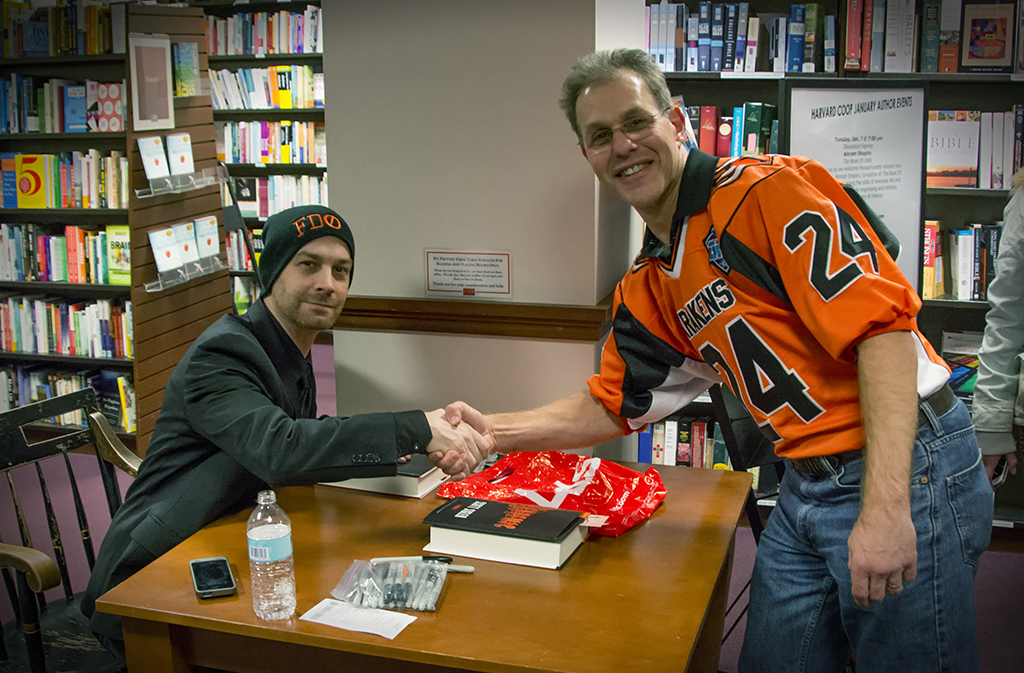 New York Times best selling author Scott Sigler came to Boston to support the release of his latest book, Pandemic. Last time Scott came into town was in 2010 after Ancestor was published. I recorded the entire visit, from the reading through the question and answer period (check out the summary here). So I decided to record him again.
I did the shoot entirely with my Nikon D7100 with the 18-200mm f/3.5 lens and a mono pod. With a one camera shoot of a live event, I find this set up to be an excellent way to cover a wide variety of shots quickly. To capture the audio, I used a Rhode VideoMic Pro on the DSLR plus a wireless lavalier mic on Scott plugged into a newly purchased Zoom H4n. Everything was great until I looked down and noticed part way through the talk that the H4n was off. I couldn't get it back on, so I quickly changed the batteries. These also drained very quickly, but I was able to record the remainder of the event before the batteries gave out completely.
The reading of the book was edited to make a shorter video (the reading was over 15 minutes), so I was able to avoid most of the footage with the missed recording, but I did have to resort to Rhobe microphone for part of the video. It's easy to "spot" when you watch it.
I eventually did a search on the Internet, and, indeed, the H4n has a bad reputation for draining batteries when delivering phantom power. I unfortunately had this feature "on" even though I didn't need it for the wireless microphone. Next on my agenda is to do an experiment to see how long the batteries will last in "norml" mode with the wireless.
The event was great! I got to meet many other Scott Sigler "Junkies" and geek out about everything he has written. Even got to hand out with Scott at the bar afterwards. It's truly wonderful to have such access to an author. You get to ask him all those nagging questions about the story, how he writes, how does everything work behind the scenes, etc.
Check out the video here, and don't forget to head over to Scott's website, www.scottsigler.com, to see all the novels, short stories, and audio books he's written over the years.