An Interview with Rock and Roll Hall of Famer Ann Wilson of Heart
Almost 40 years ago I saw Heart for the first time at the Wollman Skating Ring in New York City's Central Park. I remember the stage was absurdly high. It was also general admission, so we got in early and was able to secure spots right in front of the stage. My friend Paul and I were armed with our cameras and were ready for a fun night.
Fun With A Vario Cross Filter
Paul brought a special filter to use at the show called a Vario Cross. This filter consists of a set of discs with engraved lines, and each disc can be rotated independently of the other. Rotating the discs changes the angle of the effect. The result is a star-like effect generated from all the bright objects in the scene. It works very well on car headlights, sun reflections, rippling water surfaces or, in our case, spot lights. The effect is essentially a flare.
Looking back at the Vario Cross shots all these years later, I actually wished I hadn't used it. Although an interesting effect, I feel it was "over used" in any particular shot. That is, I think there was too much of it. Since this is an in-camera effect, you can't control which light sources produce the stars, so you get all or none. Today, I would prefer to place just a few stars in the shot to enhance the picture in an artful way.
Rochester, NY
A year later Paul and I are freshmen at the Rochester Institute of Technology, and Heart books a date at the Rochester War Memorial on October 24, 1978. Again the show was general admission so we knew we could get close to the stage for great shots. I don't remember specifically how touchy security was about bringing in cameras for this show, but over the years we used some creative thinking to sneak in our gear.
Separating the camera body from the lens was essential. I typically would put the camera down my pants thinking I was never going to be patting down in the groin area – and I was right. We sometimes put the lens in our sock, but one of the most ingenious ideas was dropping the lens into the hood of a winter jacket. To maximize success this was typically placed in a girl's jacket because they were not frisked quite as vigorously or completely as the guys – specially if they were cute and we carried on a conversation with security as we entered.
We were able to get spots right next to the stage, but it was packed tightly, so we couldn't move during the show and were essentially "stuck" on the right side of the stage. This was great to catch Nancy Wilson or Roger Fisher, but not Ann who stayed to the left most of the time.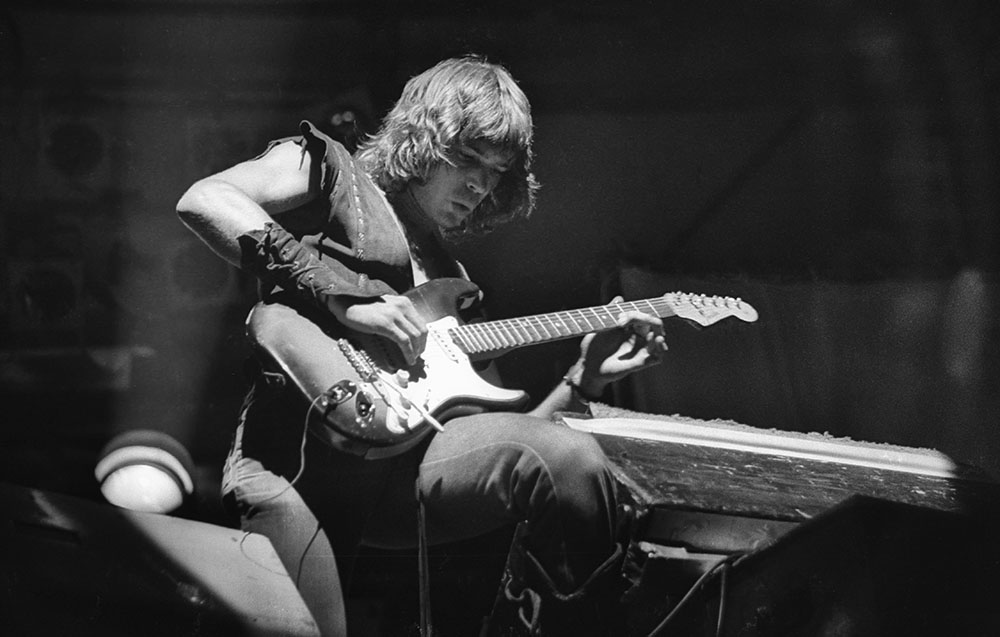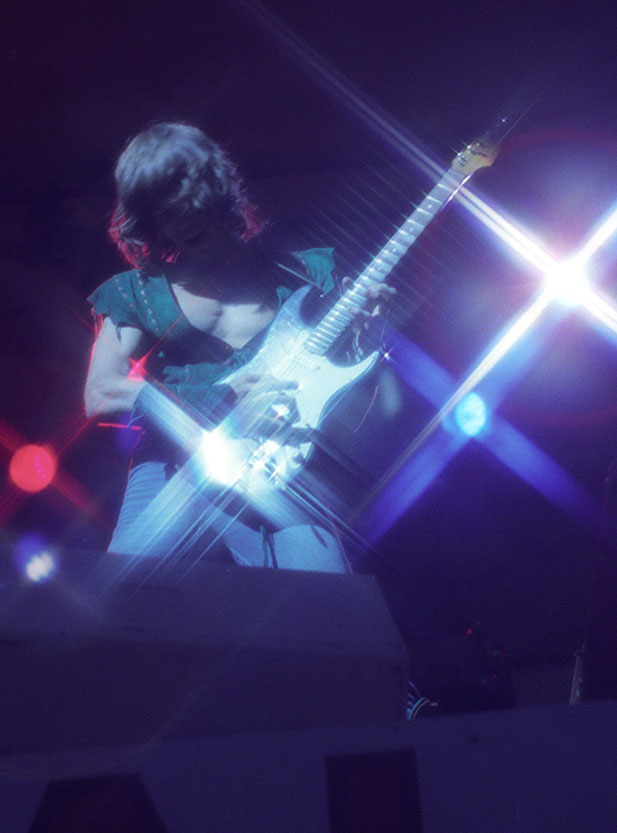 Roger Fisher of Heart at Central Park in New York City, August 22, 1977 shot with a Vario Cross filter.
My Interview With Ann Wilson of Heart
Fast forward 40 years and Ann Wilson announces a new tour with one of the dates at a great local venue, Tupelo Music Hall, located in Derry, NH. After buying tickets to the show, I sent in a request for an on-camera interview with Ann. I found out that Ann was not doing any on-camera interviews during the tour, but they did offer me a 15-minute phone interview with Ann.
Since I am not a podcaster, I turned the audio interview into a video. For visuals I used the photos Paul and I took at both the Central Park and Rochester shows (many thanks to my friend and awesome photographer Paul Melnychuck!). The length of the interview exceeded the number of good shots we had, so the last third of the video shows shots from the beginning of the video.
Ann talks about her incredible voice, how she writes songs, her current solo tour, and even the Kennedy Center tribute to Led Zeppelin.
Hope you enjoy!