Food Styling at Amelia's Restuarant in Gainesville, FL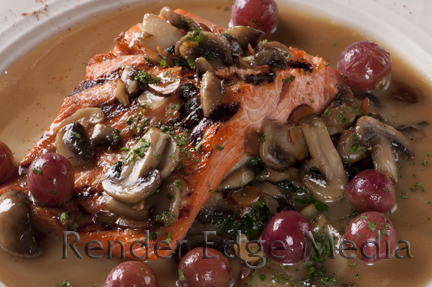 Tuesday, March 23, 2010
Yesterday I filmed a series of instructional videos and captured food beauty shots for Chef Andy Fass, owner of Amelia's Restaurant (www.ameliasgainesville.com) located in Gainesville, Florida. Our goal with this client was to create compelling website content that will attract people to come to the website, come back often, build his brand and reputation, and, ultimately, convert website visitors into customers . The videos consisted of Chef Andy teaching people how to create classic Italian dishes, insightful cooking techniques, how to determine food quality, and communicate his restaurant's cooking philosophy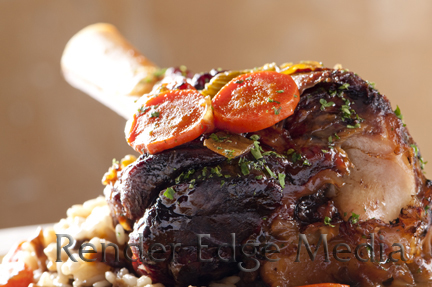 Video Camcorders Used
We shot the videos with two camcorders, one on a Steadicam to handle the main shots and the second camera handheld to dive in for those extreme close ups. It was challenging working in the relatively tight space of a kitchen augmented with lights. I had to be accutely aware of the light angles to avoid casting unwanted shadows onto the subjects while panning, pushing, and backing up the Steadicam. Oh, and avoiding getting the other camera operator or the audio technician with his boom into the shot.
Audio Considerations
Audio-wise this shoot was also a challenge with the refrigerator and fan motors whirring constantly in the background. We recorded Chef Andy with both a lapel lavalier microphone and a boom microphone handled by a roving technician. We also have the audio from the Steadicam camcorder which recorded the audio using its built-in mics. We monitored the audio as we shot, adjusting the levels as required, so we expect to get excellent resultant audio from mixing the various sources.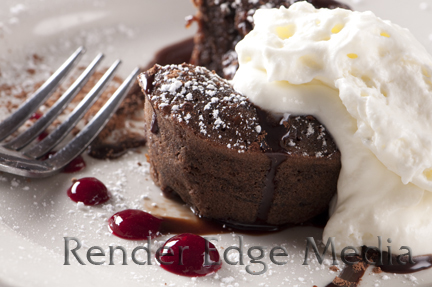 Organic Food Styling
For the still photography, I set up studio strobe lights on site in a corner of the restaurant. As Chef Andy completed the meals for the video, we then paused the video shoot to take the still images of the food.
As consistent with our trademark, all the food beauty photography was executed on the dishes just as they were prepared by the chef. Nothing inedible (or even edible, like oil) was added or spayed onto to the food. They represent the precise dish created by the chef that was created in the video footage.
It's great to see the positive reaction to the still images of the food as I take them even though the plated food is right there in front of them! It just reaffirms that the true drama and beauty can only be brought out with the proper balance and direction of the food itself, the lighting, mirrors, and reflectors.