New England Patriots Face Off Against the Super Bowl Champion New Orleans Saints in Training Camp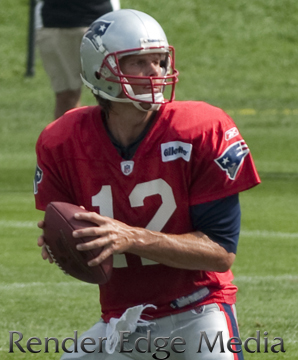 I attended the New England Patriots training camp session today at Gillette Stadium in Foxboro, MA. For those who may not know, the Patriots open up their training facility to the public for free during training camp season (click here for a detailed schedule). A good number of people show up to watch, but the facility is plenty large enough to easily accommodate everyone. I can't remember having an easier time driving into the stadium for an event. We parked literally right next to the stadium and the practice field. Again, just to emphasize, this was a free event so there was no charge for parking.
Vendors
A ton of vendors were set up along the path to get to the training field, but their sales pitches weren't too onerous. Several had offers to exchange contact information for a chance to win some Patriot tickets – not a bad deal. The Patriots also had food vendors set up with the usual stadium fare for sale.
The Venue
The Patriots have a set of stands set up along one sideline that spans the full length of one of the practice fields. They are not too tall. Probably similar in height to what a visitor's stands would be at a high school football game. To complete the scene they had vendors hawking food and drinks throughout the stands all day, so you didn't have to leave your seat to get something. In addition to the stands, people sat on a grassy hill area located in one of the end zones.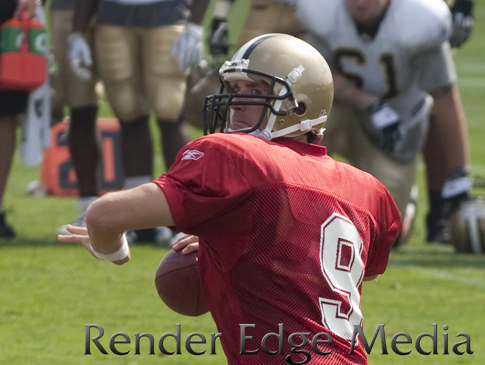 Since it was open seating, everything was very relaxed with people moving about to get a better of view of something that piqued their interest. As you can imagine, the entire field was being used for a wide variety of drills simultaneously. There were plenty of uniformed police and Patriot security in the area, but, thankfully, there wasn't much need for them.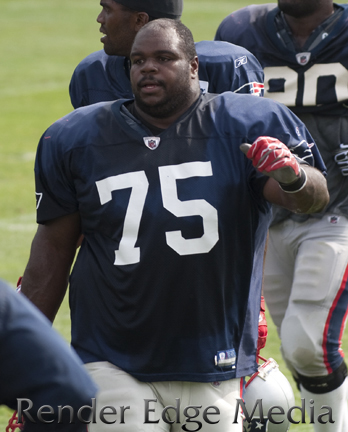 The Amazing Wes Welker
Once I found my seat, I settled in to watching the offense. My favorite drill was the passing drill. It was great to be able to concentrate on how the receivers ran their patterns – how well they entered and exited their breaks, gaging their speed, and seeing how the quarterbacks anticipated the receiver's moves. This drill amped up considerably when the Saints defensive halfbacks came in to defend the Patriots. The biggest roar from the crowd came when Wes Welker made a multiple cut/stop move to create significant separation from the defender and then caught one of his patented passes from Brady over the middle. VERY impressive, especially considering what happened to Wes's knee eight months ago. He looked good enough to play in a game. Simply remarkable.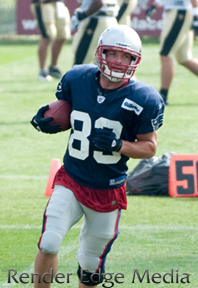 Tom Brady connected on one very long (60+ yard) pass play to Randy Moss who got behind two defenders (see photo) – the biggest play of the day.
Just as you see during the games, Randy and Tom were always together. It seemed as though everytime I found one of them in the camera viewfinder there was the other one right beside. Tom has often said that he enjoys Randy as a teamate and one would certainly believe that after watching them at practice.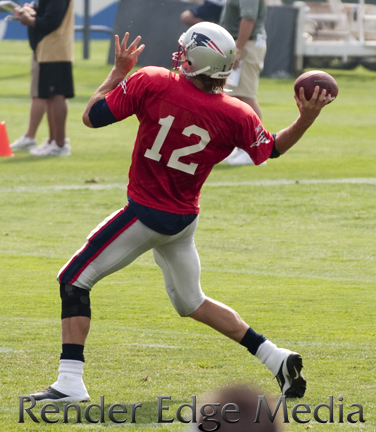 6'0″ 209 lbs
I don't know why, but Drew Brees appeared to be VERY small compared to everyone else on the field. Is he really six feet tall? I kept doubting myself that it was really him who was running the first-string offense (the pre-season jerseys don't have names on them). I wasn't completely satisfied until I got the chance to review the photos at home (see photo above).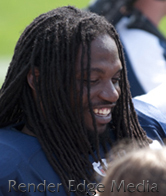 Autograph Session
Towards the end of the scrimmage, all at once the entire crowd in the stands moved to the first row. I got up looking for what must have been Tom Brady approaching the crowd, but that was not to be. What I learned was that everyone was anticipating the players coming over to sign autographs at the end of the practice session. Indeed, at least half of dozen players came by to sign autographs. I thought this was really great. Laurence Maroney and Brandon Meriweather were among the stars who came over. Even Reggie Bush swung by to sign autographs. However, practice wasn't over. This was when the third-stringers took the field, but absolutely nobody was paying attention to them. I felt kinda sad for them, but I wound up ingoring them just like everyone else as I was vying for a great shot of one of the stars. It certainly reminds you that this is a star-driven game.