Ritchie Blackmore's Rainbow at the Beacon Theater November 12, 1975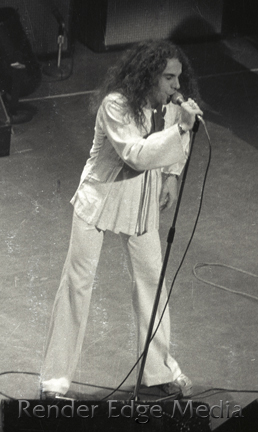 I just learned from a close friend that Ronnie James Dio died yesterday (Ronnie James Dio Dies). How sad. He was a favorite rock and roll front man of mine. Excellent rock voice. Good song writer.
Back in the 70's I was a huge Deep Purple fan, so when Ritchie Blackmore left the group to form Rainbow, my friends and I were all over their debut album. Then, as luck would have it, we scored great seats to see their United States debut performance at the Beacon Theater in New York City. We had first row seats in the balcony. I brought my Dad's trusty Pentax and two lenses, and a couple of rolls of film.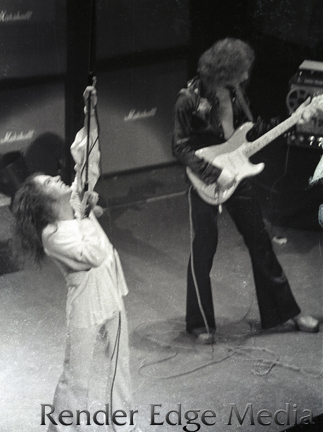 Lessons Learned
At this show I was still an amateur with regards to shooting concerts. The light meter in the camera was never right because it would always be averaging all that blackness surrounding the subject. It took several shows of mistakes before I built up the proper knowledge, and confidence, to set the exposure correctly for a given film speed. So, at this show, I had a ton of shots that were exposed brilliantly, but were very blurry. I could have easily rested the long lens right on the balcony rail, but I don't think I did that given the results.
The opening act was Argent. A completely forgettable performance – even the extended performance of their one great hit, "Hold Your Head Up," was a yawner. The crowd just wanted to see Rainbow.
I loved Rainbow's staging. From the iconic rainbow arc of lights framing the stage, the backdrop of the painting from their debut album, and Blackmore's dual stacks of Marshall amplifiers, it was just what you would want a rock and roll show to look like. I always wondered what the tape recorder was used for behind Blackmore.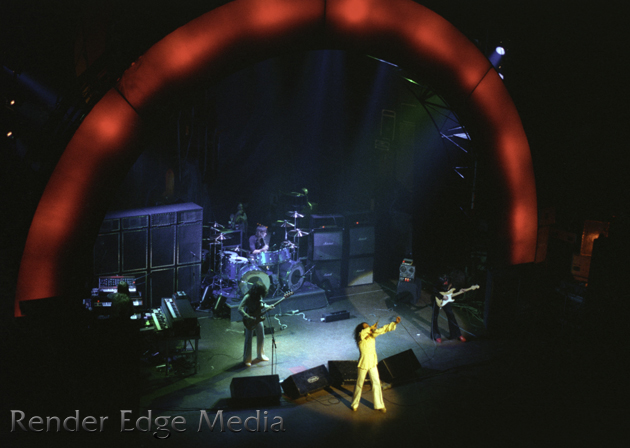 I was astonished to find that an audio recording of this performance is available on the web. It was indeed quite a kick to listen to it after all these years. I had remembered that the show had a great, long rocking song which was new at the time. I later summized it to be "Stargazer" from their second album, but I really didn't know until I saw the set list for concert which confirmed it. How cool! I also remembered and was impressed by Cozy Powell playing to the "1812 Overture" during his drum solo. I thought that was a clever innovation for the time.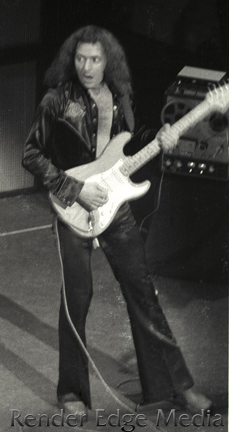 Blackmore did not throw his Strat in the air at the end of the show or smash it, but it was a great performance. A few years later I saw Rainbow again at the Capital Theater in New Jersey. There Blackmore did toss his guitar very high in the air – and I got photos of it. I'll post those photos in a future blog post.
I posted a few photos up on the Official Ronnie James Dio Fan Page on Facebook. Here are the comments from the fans.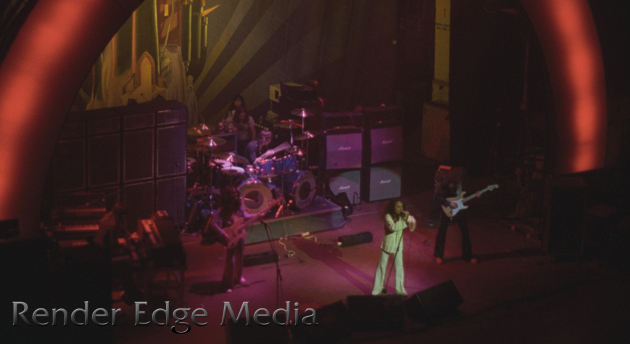 UPDATE: February 4, 2023
I was given a nudge to post some photos from the Capitol Theater show, so I decided to take a fresh look at them. Wow are they awful. I'm posting them here for the sake of "historical" perspective. The shots were horribly under exposed and blurry. I did snap some shots of Ritchie throwing a guitar in the air, but the exposure time was most likely pretty slow and I was not careful holding the camera. Enjoy, but please don't be too critical.