Meet Meagan Fuller, Miss Massachusetts 2015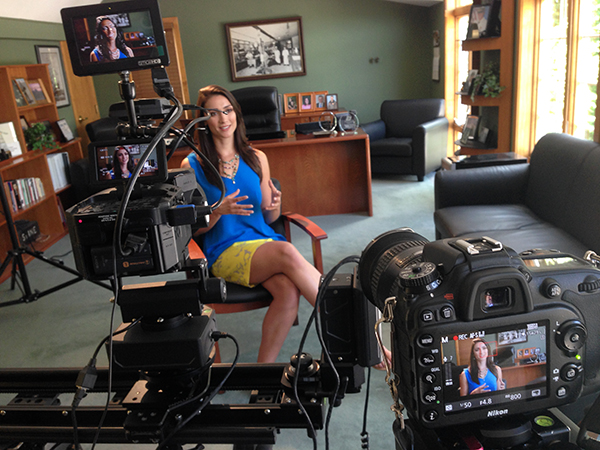 I really wasn't expecting it.
In early July I got a call from my friend, Jennifer Foxwell from Jennifer Design, with whom I've collaborated on a number of projects together. Last year she was designing a website for the newly crowned Miss Massachusetts, Lauren Kuhn, and needed some video for the website. I was soon introduced to Lauren and I produced this video for her. The pinnacle, though, was being at the edge of my seat watching the Miss America Pageant as Lauren made it to the top five.
So, as you may have guessed by now, Jennifer is currently engaged with Miss Massachusetts 2015, Meagan Fuller, to create her website, and she wanted to know if I would be interested in producing a video for her. My answer was a resounding "Of course!"
The first step was a phone call with Meagan to get to know her and understand what messages she wanted to communicate with the video. I was blown away. Meagan finished her undergraduate degree from the University of Alabama in two years. Two years! She then went on to earn her Masters in public health at Tulane University. I can see why Meagan is so successful. She is charming, well spoken, and knows exactly what she wants to do. We quickly drew up a plan for a multi-location shoot to pull in some great B-Roll and set up a 60-Minutes-style interview.
A Day of Dance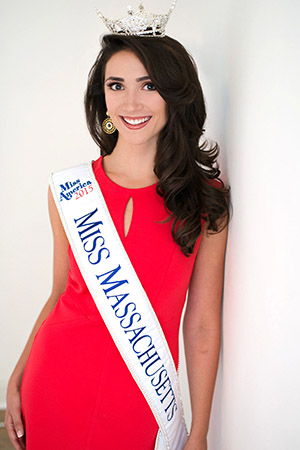 Meagan Fuller, Miss Massachusetts 2015. Photo by Stephanie Vegliante.
First up was filming Meagan at her dance studio, the Elite Academy of Dance. This was her initial session to choreograph the dance routine for the Miss America Pageant. Soon after she arrived, I purposely had her do her stretching next to a North-facing window with the lights off in the studio so I could take advantage of the beautiful, soft light wrapping around her. I really loved the idea of showing her alone, being deliberate, and taking her time. I didn't know it at the time, but during the interview she talked about her dedication and drive which turned out to be the ideal quote to pair with this footage. The result was so strong I made it the opening to the video.
After a lifetime of dancing (Meagan started dancing when she was 2 years old), it's clear there is an advanced vocabulary and shorthand that dancers have developed with each other. Her choreographer would block out a few steps, say a few things, then Meagan was stepping off some very complicated movements. In what seemed to me to be a very short time, they were already half way through the 90-second piece of music, a slightly cut down version of Jennifer Hudson's "Feeling Good".
Teaching Kids Food Literacy
Next up was filming Meagan teaching children about food literacy. To film this I had the ideal place: the Test Kitchen at A.J. Letizio Sales & Marketing. The owner, Al Letizio, graciously let us hold the class in his facility which has a fully functional food service kitchen designed specifically to demonstrate and learn about food products. I let Meagan teach the course naturally, and just used the camera on a monopod following the action to collect the footage. I very much wanted it to look like we were peaking in on the action, hence the use of the monopod which introduces a little bit of camera shake. Anything from a tri-pod, steadicam or slide in here would have looked too polished.
The Interview
This is where Meagan shined. She had all of her thoughts lined up in her head, and spoke completely extemporaneously. No "uhms" or "ahhhs." Very articulate. After getting the basics of what she wanted recorded, I then asked her a series of questions to explore other aspects of her life and her perspective on things. This is when she brought up her thoughts on drive and dedication. Although it was quite clear from her accomplishments that she has tremendous drive, it was almost breathtaking to have her speak to this directly. Her emotion was real. You can feel it. It let us get to know her more deeply. Just a fabulous moment captured on video.
Post-Production
All toll, I captured over 2 hours of footage. Sorting through the B-Roll footage was pretty straight forward – simply selecting the viable footage and sorting it into categories for easy location later. Editing the interview was more challenging. First step was to cut out only her answers, then taking an initial pass at assembling them into some sense of order to tell a story. Then iterate. There are no shortcuts with this step. You listen to the words again and again, rearrange, cut, rearrange again, and then more listening. Eventually the production is cut down to something palatable and interesting. I like doing this in phases – slowly whittling down the words to get a nice, tight story line. Often during the process I put everything aside for a few hours so I can come back later to see if from a fresh point of view. This often brings clarity to things that were initially confusing. I have found that it also spurs inspiration for how elements can be put together in a fresh way to make the video more interesting.
The final production is below and is currently on the home page of Meagan's website. I'm looking forward to rooting for her on Sunday, September 13, 2015. Good luck Meagan!