In Memory of Junior Seau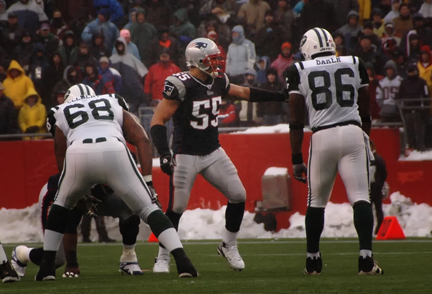 After listening to all the sports-talk radio about Junior Seau's suicide, it dawned on me that I might have some photos of Junior when I had the opportunity to see the Patriots play the Jets during the 2007 season. Indeed, after going back into the archives, I had several, so I thought I would share them here.
I was invited by PC Connection to watch the game from their box along with many other clients. The box was located near the 10 or 15 yard line and had an excellent view of the field. Taking photos from this vantage point was great, but the real fun started when I won a lottery they held just before half time to go down on the field at the start of the 3rd quarter! We were down on the Patriot side of the field near the Jets end zone, and were supposed to see the players walk right by us as they re-entered the field. But for some reason that day the team decided to come back to the bench from a different door. Bummer.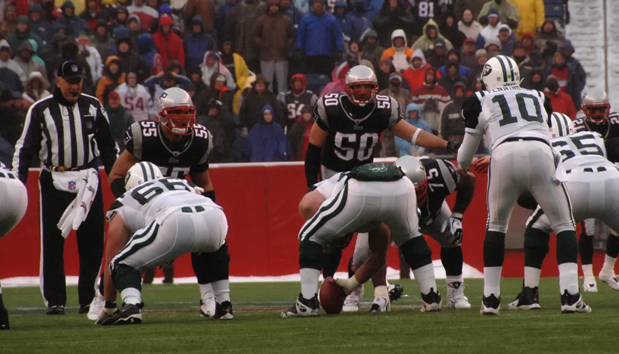 So I meandered towards the bench where there were a few people taking photos of players. I had my Nikkor 18-200mm lens so I was able to get a pretty descent shot of Tom Brady warming up – until security noticed me. The other folks around me were taking photos with their point-and-shoot cameras which garnered no one's attention. But as soon as I extended my zoom lens they were on me immediately and told me to back off. Quite frustrating, but I was able to snap off one good picture of Tom.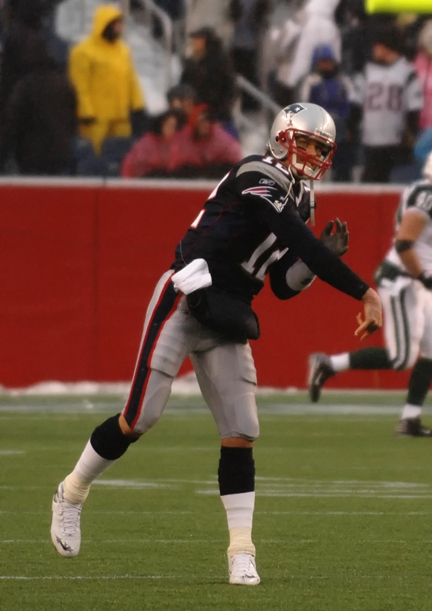 The Patriots kicked off to the Jets, so I was able to take some shots of the defense from the field level. For my money, this is the only way to photograph football. I used to photograph high school games for a local paper growing up (that is, until I started playing varsity myself). I always loved seeing and anticipating the action with a telephoto lens. It allows you to get very intimate with the game. Thus, this was why I thought I might have some shots of Junior.
"I was able to snap off one good picture of Tom"
I remember trying snap off as many as I could regardless of the play and whether or not I had a great shot. When I typically photograph football, I would note the down and distance, and make a guess at what the offense might do, then focus in on a player that I would anticipate being in on the action. Since I didn't have the luxury of photographing the whole game, I decided instead to pick a player, or players, and start shooting. I knew I had a limited amount of time, and I wasn't sure if the teams would be near me again, so my shots were kind of random.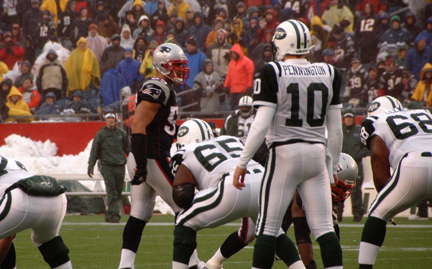 At one point I did kneel down along side the professional photographers along the back of the end zone for some shots. No one bothered me – until the PC Connection representative said we had to go. I talked him into letting us stay for a Patriot offensive series, just in case they came down our end of the field to score. But alas, they punted pretty quickly and my time on the field was done. All in all, I am very happy and appreciative of the time I had on the field. Who knew that my chance photos of Junior Seau would wind up published here. I hope you enjoy them.
As with many other, the death of Junior Seau saddens me. He was an awesome football player that many of his peers and coaches loved. He was one of the guys you routed for to do well because he deserved it by doing all the rights things. My thoughts are with his family.