New Chamber Website Launched!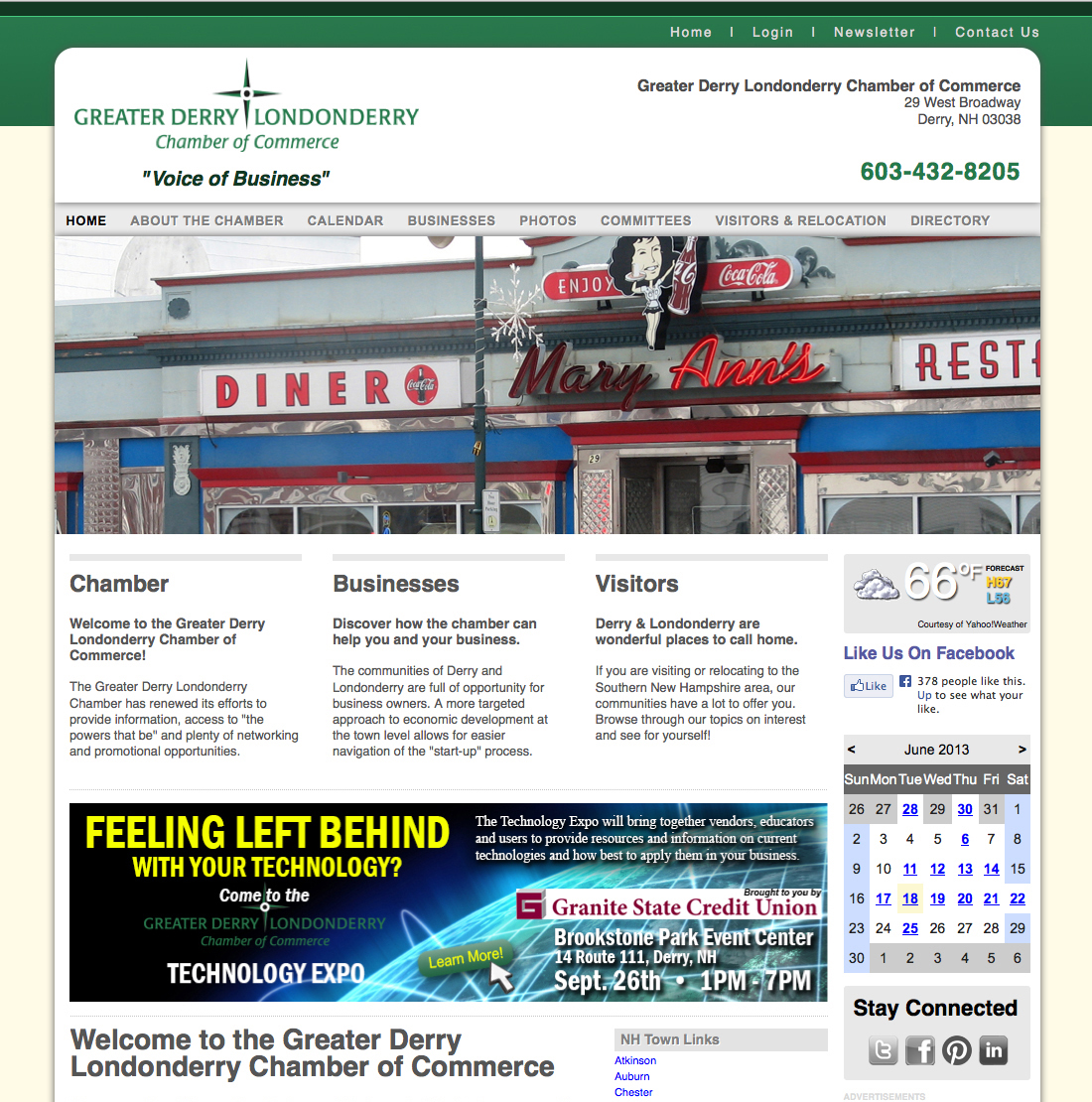 We recently launched a brand new website for the Greater Derry Londonderry Chamber of Commerce. This website incorporates new technology that helps the chamber promote their members and local events in a very sophisticated way, but with the ease of editing a word processing document.
Authentic Content
It is well known that having tons of authentic content is the best way to raise where a website appears on search engine results pages without having to resort to paying. Unfortunately, created and managing complex content for a website is typically very difficult and/or expensive to do. What Render Edge Media, LLC has developed for the Chamber is a way to create, aggregate and publish content that is not only attractive for the visitor to view, but also maximizes the exposure of the content to the search engines. The impact can been right away on the Chamber's Home page.
The Home page has many distinct areas of content – more reminiscent of a newspaper. In addition to the introductory information about the Chamber, the page has "Chamber News" and "Featured News" sections, general local informational links, an events calendar, and several advertisement sections. Once a story has been published, the underlying system knows where to make the content available throughout the rest of the website automatically. This makes it very easy for the Chamber to manage their website. Instead of worrying about how things are formatted, they can concentrate on the creation of their content.
Great For Chamber Members Too
The great thing about this website is that this same technology is also available to the Chamber members. Instead of only being listed in the on-line member directory, each member can also have their own page on the website, complete with the ability to publish articles on a continuing basis. For small businesses who do not have a website, this is a very compelling on-line solution for them because for very little expense, it allows the business to piggy-back on the great traffic that the Chamber website receives due to its inherent popularity. Chamber websites throughout the country are often some of the most visited websites on the Internet. By being a part of the Chamber website, the business benefits from both the number of visitors the website attracts as well as its high ranking in the organic search results. The Chamber benefits as well because the additional articles published by the members broadens the amount of authentic content available on the website which the search engines love.