Next Installment of "Get Your Eyes Checked"
The next Spindel Eye Associates TV commercial in their series "might want to get your eyes checked" has been released!
The setting for this spot is a baseball game. Many thanks to the Manchester Little Leaguers, their parents, 2DiFore Marketing Solutions, and Educational Outfitters who were all instrumental in helping to pull this spot together.
This commercial had an interesting genesis. The idea originally came from Dr. Spindel. He proposed it way back in December, but we had to wait until the weather was appropriate to film it. I first developed the storyboard, then wrote the play-by-play script. After selecting the voice over talent, I then had the script recorded. I felt this was important because I wanted to know the specific timing I had available for each shot. I cut together the commercial with the voice over recording and my storyboard as the visuals. This allowed me to nail down precisely how long each shot had on screen.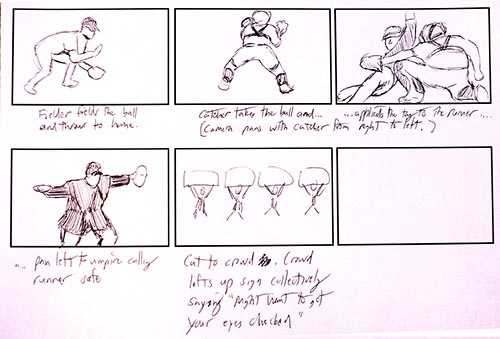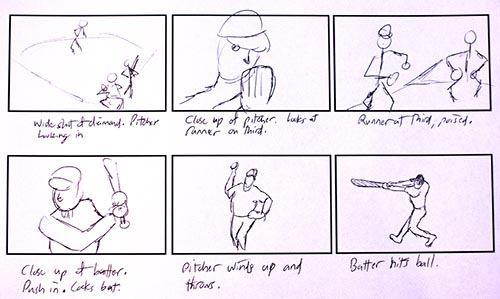 After I was satisfied with the pacing of the commercial, I then scheduled the video shoot. The first thing I did at the shoot was have the kids try out for the positions. I showed them the movements I wanted the pitcher to go through, and I selected the one who I thought came across as the most believable. Next was selecting the second baseman. The catcher was pre-determined, so I didn't have to evaluate for that position. The batter needed to be left handed, so that was an easy choice – there was only one!
Once we started filming, the shoot was very efficient. Some of the kids were only available for a few hours, so that forced us to be hyper-aware of the time, but overall everyone was very cooperative and perfectly executed what I asked of them. Since the entire commercial was already in my mind (see the storyboard), I just needed the kids to act out each part of the play. What I thought would be the most difficult to pull off was the play at the plate given the complexity of the timing. However, after only a few trials, we hit upon using a countdown to start the players. Each had their own number to start from, and the play was actually quite easy to replicate.
To minimize costs and the amount of kids required, we only had six players for the field. We moved them around the field (like from third base to right field) to fill that position when it was on screen.
I'm looking forward to producing the next commercial for this series.