Patriots Training Camp August 7, 2017
Today was my annual trek to Gillette Stadium to attend one of the New England Patriot's training camp sessions. These free events have gotten more popular over the years, so I planned this visit on a weekday to "guarantee" a smaller crowd, but what I completely underestimated was that as defending super bowl champions with one of the greatest quarterbacks of all time, the Patriots are a HUGE draw.
Getting there an hour before practice started used to be fine.
Not any more.
When I arrived, the doors had already been open a half-hour and the stands were completely filled. Yikes! I was able to politely squeeze in and sit in the bleachers along practice field, but many of the people behind me were not so fortunate. The overflow crowd was sent to the ramps of the stadium that overlook the practice fields. In all the years I've gone to training camp, this was the first time I had seen that.
Today's practice session was a dual practice with the Jacksonville Jaguars. These are a lot of fun to watch because the players take the drills against the other team very seriously – they all want to "win." I just loved watching the one-on-ones, like the receiver/defensive back drills or the linemen drills.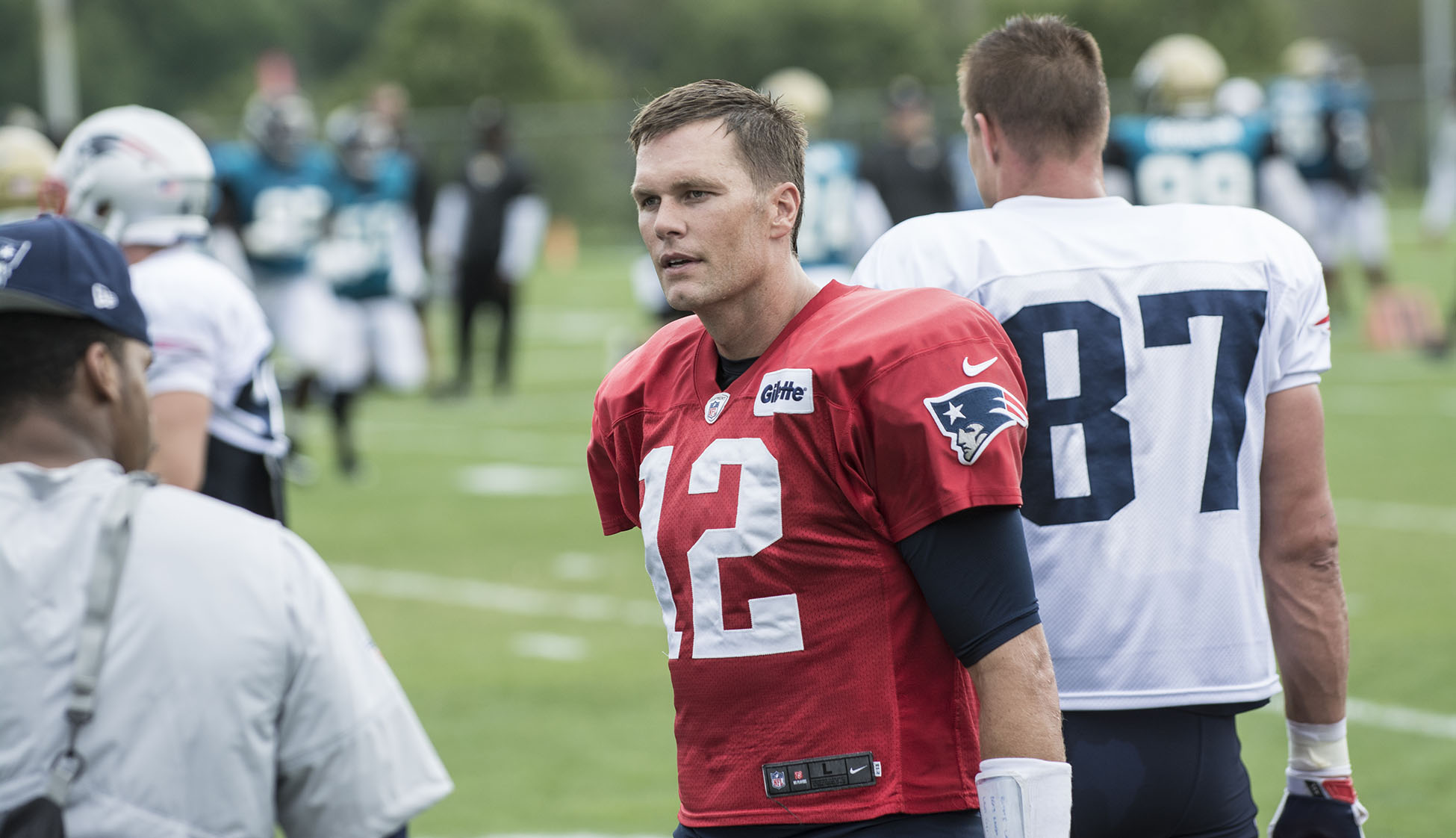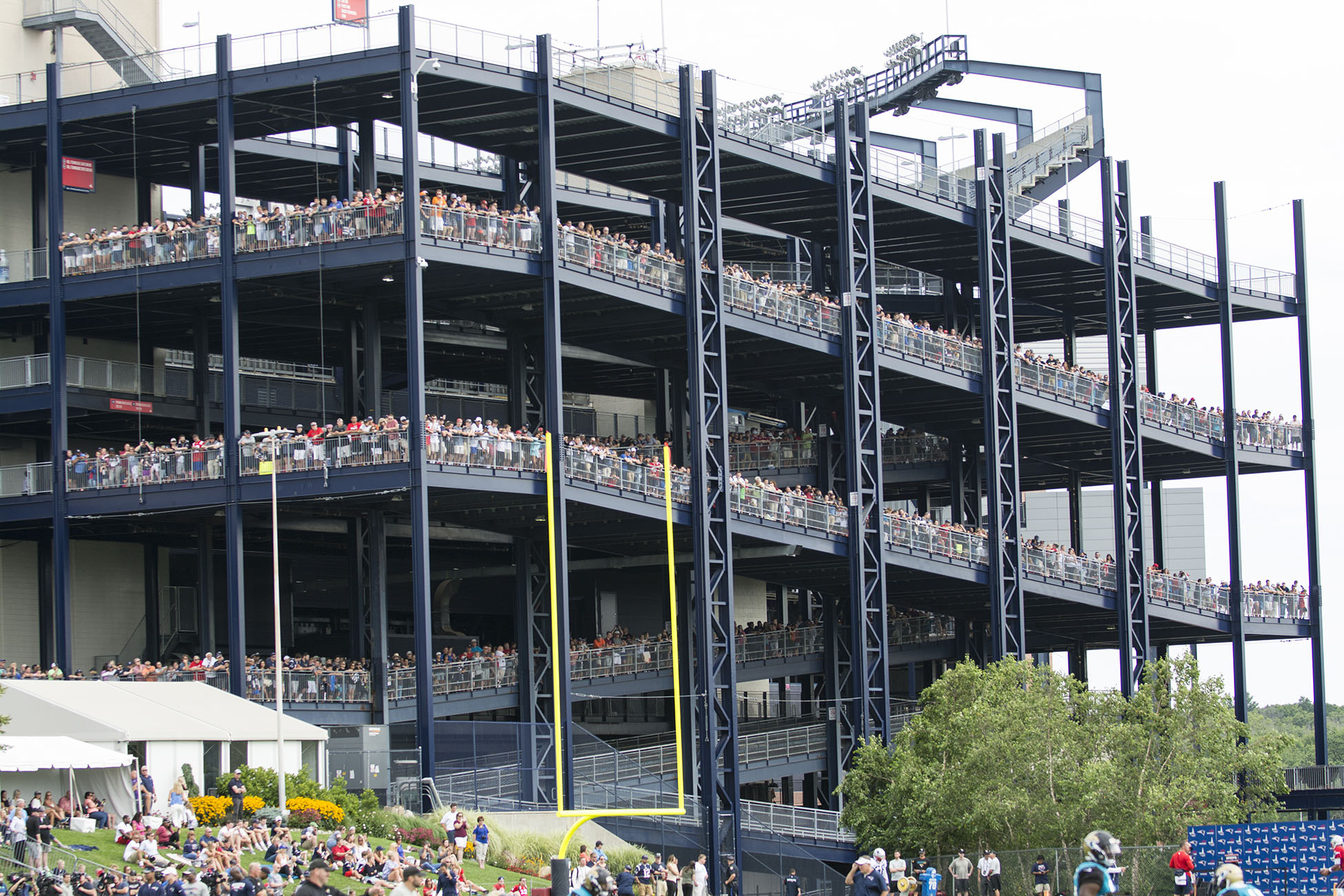 An Intense Tom Brady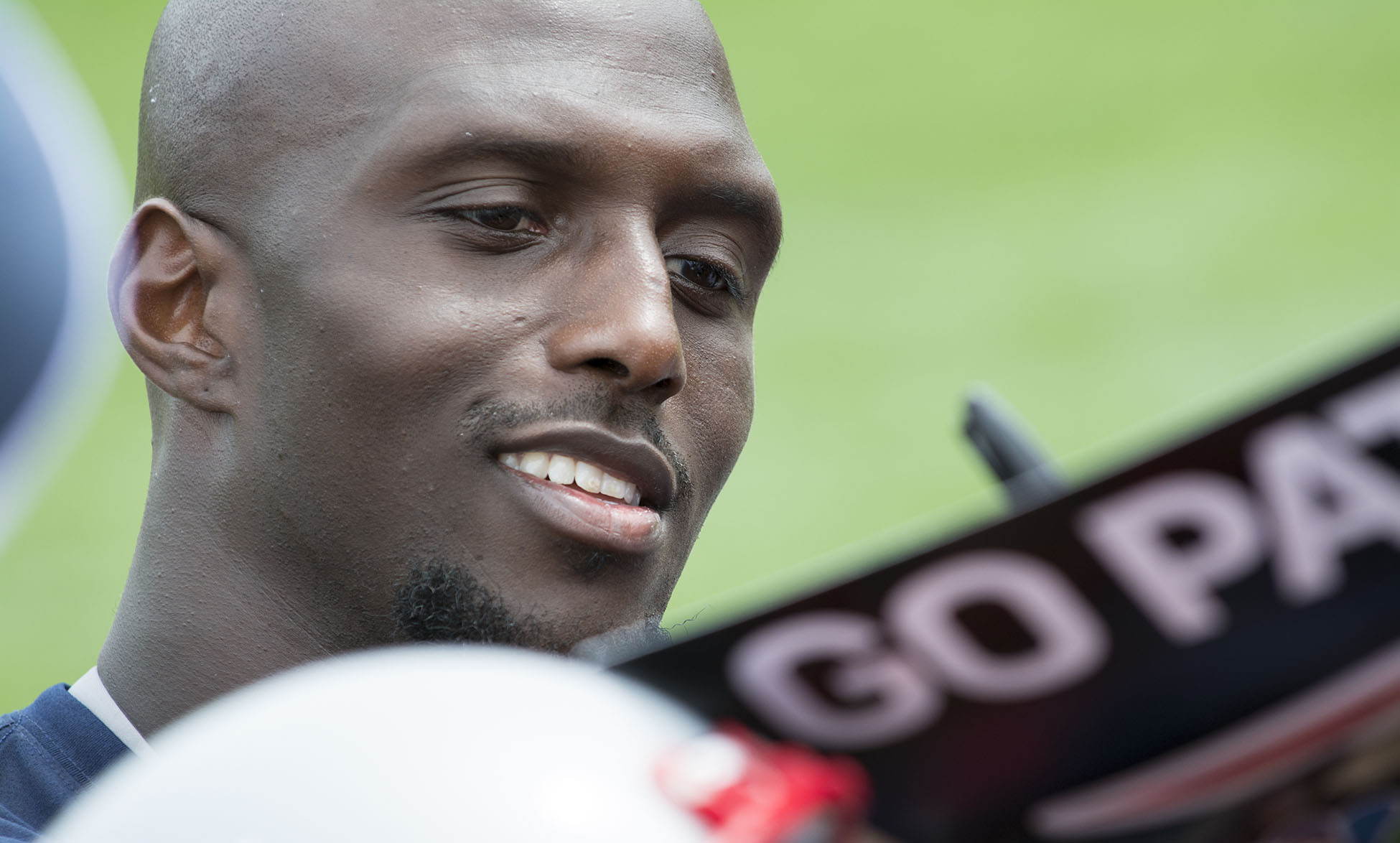 Tom Brady is always very serious at training camp. He never acknowledges the crowd. He tries very deliberately not to even face the crowd. When he is waiting his turn to go back on the field, he stands way down the sidelines to be as far away from the stands as possible.
But you can see his intensity on his face.
In every shot his eyes are narrowed – his lips are pursed. He's never smiling.
After tight end Dwayne Allen (#83) failed to make an effort to go after a ball that was thrown to him, Brady went right up to him on the sideline and let him know how he felt about it (see below in the gallery).
Brandin Cooks (#14), who came in a trade with New Orleans, looked fabulous. He caught at least three touchdown passes. One was a very deep bomb over 50 yards (the over-the-shoulder catch below in the gallery) while another was a one-handed catch in the back of the end zone. Very impressive. If the receiver core stays healthy, the Patriots are going to be very difficult to defend this year.
Focus Issues
Photography-wise, I was bit disappointed with my performance. A lot of my shots were missing focus by a little bit. For the most part I've been happy using my Nikon D7100 with the Nikon 70-200mm f/2.8 lens for sports photography. I've had plenty of very successful outings with the combo. For some some reason today, a lot of my shots missed the mark.