Pedro Stikes out 12 en Route to 3-1 victory over Expos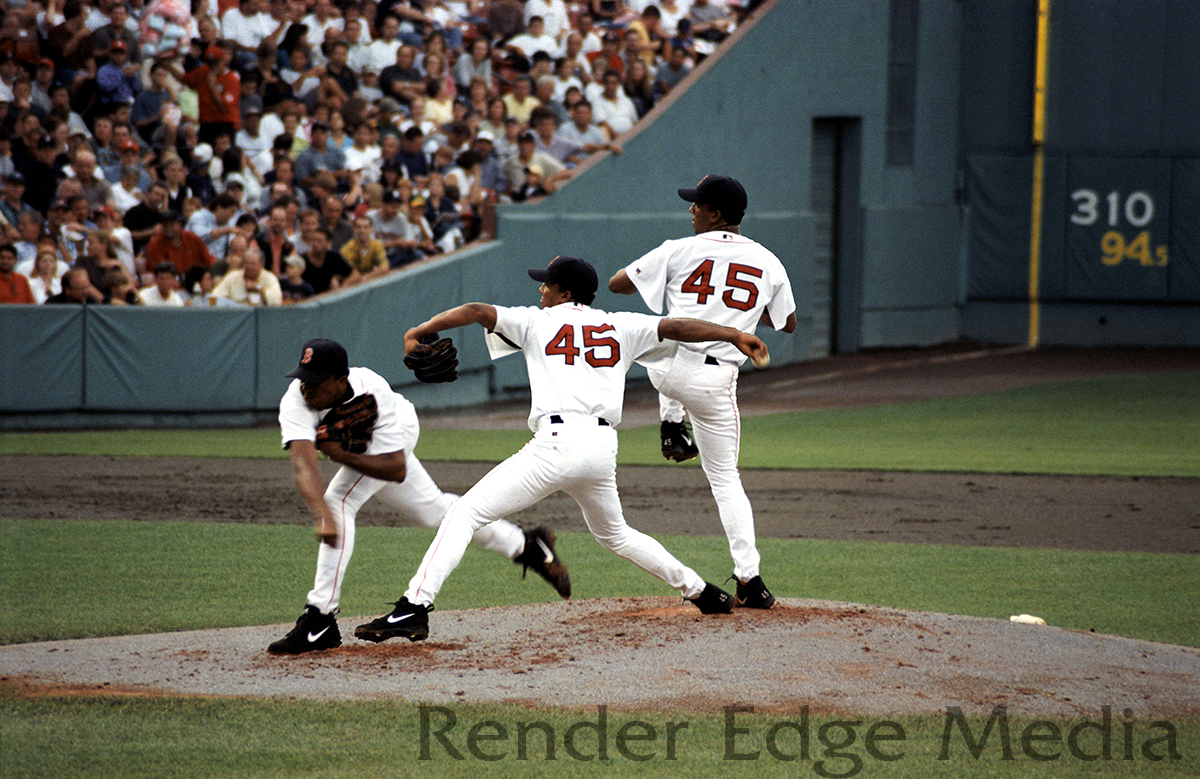 It was the summer of 2000. I had the good fortune to not only get access to Red Sox tickets, but I got to see Pedro Martinez pitch several times. Every time he took the mound that year it felt like he could have pitched a no-hitter. He ended the season with an ERA of 1.74. In hindsight, that accomplishment was even more remarkable given that he was pitching in the height of the steroid era.
Pedro is far from an imposing figure. At 5′ 10″ and 170 lbs, you wouldn't think he could throw a fastball in the high 90's. But his long fingers and great mechanics belied his outwardly appearance, and was able to strike out the best batters in the league regularly.
On July 18th, 2000, the Red Sox were playing the Expos. Early in the game, not many people had arrived yet. I was alone, so with a confident stride, I took a seat along the first base side just behind the dugout. This gave me a great view of Pedro at the mound. With my trusty Nikon N70 and a Nikkor 70-300mm f5.6 lens, snapped off several shots on Kodak Gold 200 film (yes, FILM). I had recently purchased a Nikon Super Coolscan 4000, so I was able to capture a high-quality scan of the images, then went to work in Photoshop.
In 2000, I hadn't done a whole lot of image manipulation work, so this was essentially my first attempt at combining several shots in to one. What may be very trivial today to achieve was virgin territory for me at the time. Nor were there any tutorials available on line for assistance. Nor were the advanced selection tools and plug-ins available for Photoshop. With a fair bit of experimentation, I discovered that it was far easier to cut Pedro out with a lot of slop around him – the wall, grass and baseline – because those elements were much easier to blend back in to the original plate. My wife then had the bright idea to remove the third basemen because he was "distracting." I argued (from a purest point of view) that the third basemen HAS to be there, but after thinking over the suggestion, I agreed, then proceeded the painstaking work of painting the third basemen out of the photo. I think it does look better (and nobody notices that he is not there – interesting, huh?).
With Pedro being elected into the Baseball Hall of Fame yesterday, I thought it would be a good time to post my photo series of Pedro in honor of this great achievement. Enjoy!